The New Year Jumpstart!
The 6 Week Jumpstart!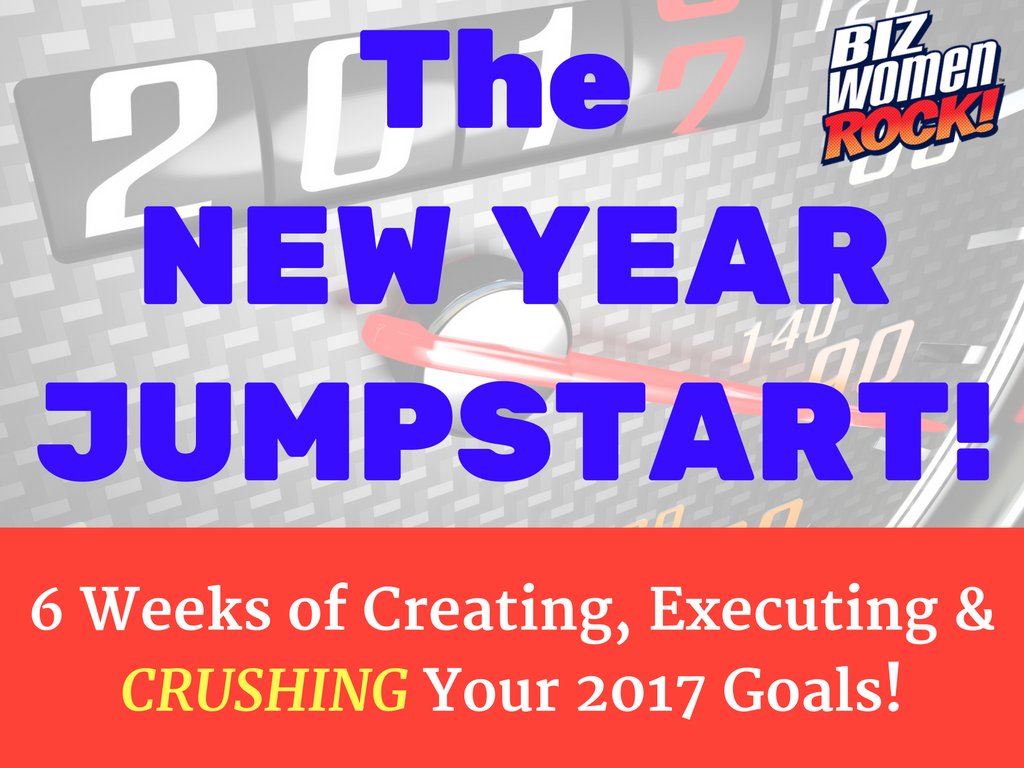 How many times have you made New Years Resolutions?
Lose 10lbs
Grow my business by 20%
Bring in $20,000 of revenue every month
When you make resolutions or create a new BIG GOAL for your life and your business, you're full of EXCITEMENT, full of HOPE and full of FAITH that everything you envisioned will come to fruition!  You are glowing because you know that this year will be different!
THIS year will be YOUR YEAR!
But then…life happens…
You get hit with a big expense you didn't plan
Your most trusted employee up and quits
The new program you had thought would be the future of your business isn't actually doing so hot
All your customers or clients who were so in love with you last month seem to be missing in action
So what do you do?
You go into survival mode.  You do your best to juggle all the balls that are now flying in the air.  Your time, your energy and your attention is divided.  Split somewhere between keeping the doors open and desperately wanting to GROW into something BIGGER and more SIGNIFICANT!
A few months down the road, you realize that you're business is growing steadily (yeah!), but it seems hard and like you're treading through mud in order to produce results.
While you may have a vague memory about those BIG GOALS you set in the beginning of the year, you sure aren't doing anything proactively to make them come true.
You're just chugging along.  Paying the bills.  Getting by.  Growing steadily.
But that's not what you're meant for.
You're meant for

MORE

.
You're meant for

BIG

.
And the only thing standing between YOU and the MORE YOU DESERVE is a strategic plan that produces results and the structured support you need to EXECUTE IT (even amongst the chaos)!
That's why I created the NEW YEAR JUMPSTART!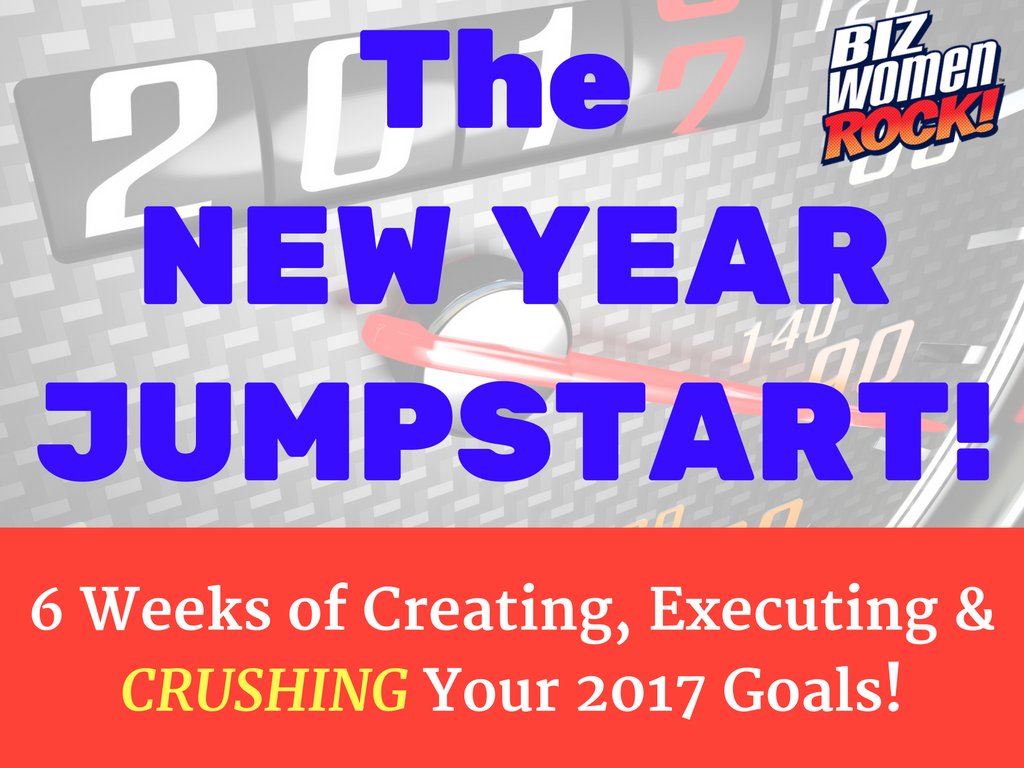 The truth is that there is a very specific methodology to creating goals, manifesting them and ACHIEVING SUCCESS in a way that is meaningful and powerful to you and your business!
And that methodology is exactly what the NEW YEAR JUMPSTART gives you!
During this 6 WEEK GROUP PROGRAM, you'll learn…
The ART of Goal Setting: How to create goals that are ideal for you…ones that will stretch you but will also be ACHIEVABLE!  Choosing the right goals that will have the biggest impact on your business growth!  We'll work backwards to create monthly and weekly milestones to keep you on target and help you create your short sprint action plan that will strategically help you HIT your goals EVERY SINGLE TIME!  You'll work with an Accountability Partner and keep each other in check as you plow through your beginning of the year goals!  And, you'll have access to a special private Facebook Group to check in, ask for help or ideas and have an intimate group of fellow on-fire business women to give you the support and accountability you need to succeed!
Becoming the Person Who Achieves Your Goals: We'll discuss daily routines that will set you up for success, how to make habits stick so you can become the person who is READY to achieve the goals you've set!  You'll learn about just how vital personal development is during your business growth and simple ways to incorporate personal growth into your life that makes a BIG impact!
Scheduling Your Goals: Owning your schedule is a MUST for achieving anything in life!  The growth of your business is no exception!  You'll learn simple ways to shift your calendar from "I have to do this" events to "I'm planning to do this" events!  And you'll see the importance of being proactive about creating the schedule YOU WANT which will enable you to be a TON MORE PRODUCTIVE with your time, thus ensuring you're spending your time in the most effective elements of your business!  We'll go over exercises that will help you change your schedule immediately and sure-fire ways to ensure you HIT YOUR GOALS EVERY SINGLE WEEK!
Building Your Community: Bringing customers and clients into your business over and over again is imperative for you to increase your revenues and the impact your business can make.  That's why we dive deep into how to build and grow your community, your following, your list, your customer base – the people who get value out of what you provide!  When I say deep, I mean deep!  We discuss TONS of strategies for how to position yourself as the EXPERT, how to keep attracting the perfect person to you over and over again and how to use a variety of platforms to continue growing your community!  And then…how to keep them engaged in who you are and what you're doing!  Ultimately, to give you a pool of people are are hungry for what you have to offer!
Creating Offers That Resonate and SELL: Whether you have one product or service or hundreds, you'll discover how to be package offers to your community so they are exactly what they want and sell, sell, sell!  You'll learn creative ways to "fill the gaps" with revenue during traditionally slow times of the year, how to do super quick market research so you know what to offer, and how you can create revenue streams that are recurring to stabilize your income!
Creating Lasting Results: Lastly you'll learn how you can take the momentum, the strategic planning and the goals you've created and make them last in order for you to SHATTER the goals you created for yourself!  No more petering out, no more getting off track, no more letting your circumstances dictate your life…you'll learn SURE FIRE WAYS to stay focused, productive and in line with your vision!!
The New Year Jumpstart Begins the Week of January 16, 2017!

The 6 Week New Year Jumpstart includes…
Weekly topic-driven calls, complete with exercises and purposeful action plans!
A Private Facebook Group to gather with your fellow students, sharing your goals, your struggles, getting support and accountability!
Weekly exercises that will optimize the lessons and get you deeper results!
Weekly homework that will keep you ON-TARGET and FOCUSED!
Access to an Accountability Partner who you can support and who will support you!
24 hour access to me within our Private Facebook Group!  I'm available to answer any questions or give feedback!
Completely FREE access to my FACEBOOK GROUPS ROCK eCourse ($197 value)! An invaluable tool to help you grow your community through a Facebook Group!
Want the VIP Treatment?
Only 4 VIP spots are available!  In addition to everything above, the VIP ticket includes…
A 2 hour Take Action Session with me!  Yours to use at any time during or after the 6 week program.  A Take Action Session is a 2 hour intensive to work on implementing all the lessons learned in the New Year Jumpstart Program!  It will ensure you know exactly what to do, how to implement and what's perfect for 

your

business!
FREE Access to my Rock Your Retreat Workshop! ($397 value)  This online education will give you the step by step on how to host a super successful and profitable retreat in 2017 and beyond!

The New Year Jumpstart is PERFECT for you if…
You're tired of creating goals and never hitting them!
You have BIG PLANS for 2017 and you just need the structure and the support to make it happen!
You need accountability!  You need other people holding your feet to the fire to make sure you do what you say you're going to do!
You're tired of having a mediocre business…you're ready for BIG!
You know there's a faster and easier way to get what you want in business!
You don't want to get half way into 2017 and realize that you've made no significant progress towards what you said you really wanted in January!
You're tired of struggling and you're ready to SOAR!
Join me for this EPIC 6 WEEK JOURNEY to creating the BEST YEAR YET for you and your business!!!