2018 Masterminds
Ready to Massively
UPLEVEL

 Your Game in 2018?
Then the

Biz Women Rock Mastermind

was made for you!
To get different results, you need to take different actions…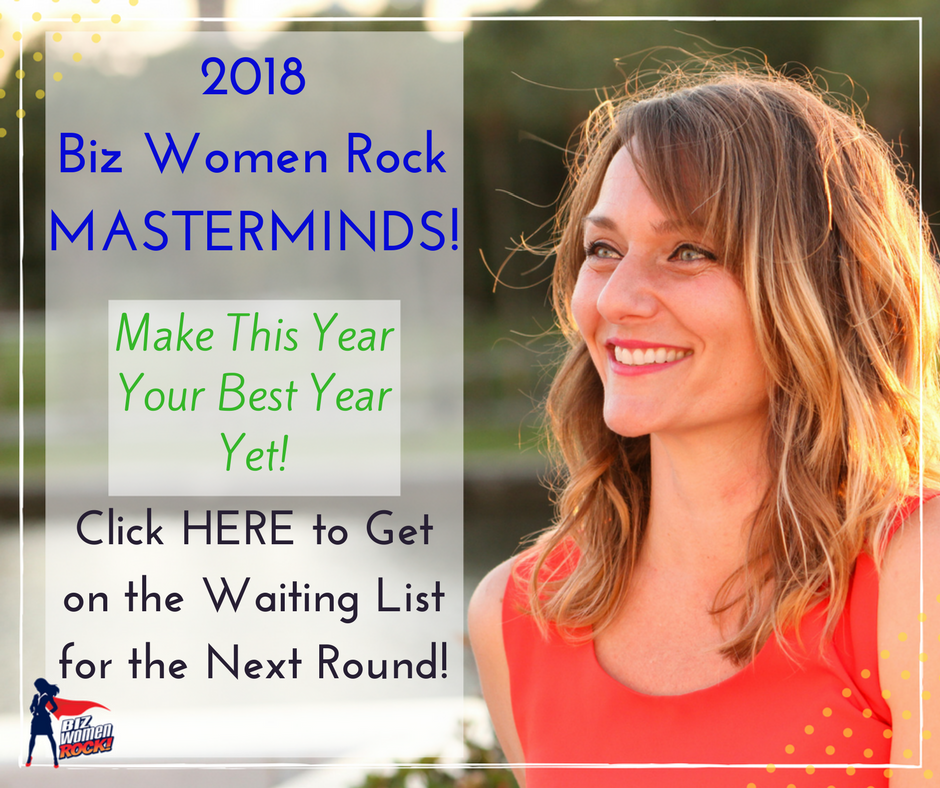 The 2018 Biz Women Rock Masterminds are closed for applications at this time. To get on the waiting list for the next 2018 round, CLICK HERE!
Do you remember the last time you created a BIG GOAL for your business?
Do you remember how much FIRE you had in your belly to make BIG THINGS happen when you created that goal?
Do you remember that FEELING OF JOY you had when you envisioned yourself achieving that big goal and what it would mean for your life and your business?
Do you remember that fresh feeling of POWER and VIBRANCY and FOCUS you had when you began that journey?  
And how did things look for you 6 months later?
Probably not nearly as awesome and exciting as you had envisioned, right?  
You're not alone.  
Most business women I know have a difficult time maintaining the sense of FOCUS and DETERMINATION we all feel in the beginning of the year.  You've created results for your business, for sure, but you CRAVE MORE!  You know you could not only hit those big goals, but you could totally BLOW THEM OUT OF THE WATER if you put your mind to it!  And you could do it strategically…without driving yourself insane along the way!
Guess what?  You don't have to give up!  You don't have to settle for less than stellar results for your business!  You can choose NOT to just keep "getting by" at the pace you have been, but achieve everything you wanted and more!
You can GO BIG!  
You can LIVE BIG THROUGH YOUR BIZ!
You can bring in MORE MONEY, have a BIGGER IMPACT and create the BUSINESS OF YOUR DREAMS!
Imagine what it would feel like if you hit that revenue goal in MONTHS instead of years!
Imagine what it would feel like to have the structure that kept you FOCUSED and in purposeful action in your business so you could avoid all those moments of "floating" that leave you feeling disorganized, unproductive and so far behind!
Imagine what it would feel like to watch incremental growth turn into exponential results because you had an inner circle of your peers cheering you on, providing ideas and resources and ultimately shortening your learning curve!
This is all totally possible for you!
But it won't happen by doing the same things you've been doing.
To get different results, you must take different actions!
Focused growth like this only happens when…
You give yourself STRUCTURE that will keep you focused!
You surround yourself with an intimate group of your PEERS who can help you see what you can't see by yourself and can get you to SOLUTIONS fast!
You hold yourself ACCOUNTABLE to others who believe in you!
You SHOW UP regularly to TAKE ACTION on your goals!
You LEARN from your fellow Biz Women and implement your lessons!
Strategic growth CAN create exponential results…IF you have the right structure and take the right actions!
And that's what you'll get in the
2018 Biz Women Rock Mastermind!
Because when you CHOOSE to put the right FOCUS, ATTENTION and ACTIONS into your business, you create massive impact for your revenues, your clients and your life!
The 2018 Biz Women Rock Mastermind was created specifically for YOU if…
* You're feeling scattered and want to re-focus into ACTION!
* You are DETERMINED to make 2018 the best year of business you've had yet!
* You need to breathe new life into your business that is just chugging along!
* You value the wisdom of your fellow biz women and get how powerful it is to share your business with other trusted, savvy women!
* You're craving an inner circle of women to help support you and your business!
* You know you need the RIGHT STRUCTURE to help you thrive!
* You've been struggling to bring in the revenues you deserve!
* You know being held ACCOUNTABLE to others will help you follow through on the actions you need to produce the results you want!
* You're tired of "floating" and getting derailed from the results you want to create!
What's included in the 2018 Biz Women Rock Mastermind?
* 1 hour weekly group calls, January through June! 
* Full email and voxer access to me!
* Featured HOT SEAT opportunities to focus in deep on
your
business!
* 24-7 access to me and your fellow Mastermind members in our secret Facebook Group!
HOW DOES THE BIZ WOMEN ROCK MASTERMIND WORK?
Where do we meet?
How long are the sessions?
How long is the commitment?
What actually happens during the calls?
I'm addressing all of this in the quick video below. Just click play and I'll walk you through exactly how I structure the Biz Women Rock Masterminds!
What IS a Mastermind, exactly?
The concept of a "Mastermind" was popularized from Napoleon Hill's book Think and Grow Rich.  In it, he dissects what made the biggest business leaders of his time so wildly successful.  One of the commonalities was that they all participated in "Masterminds," times when two or more people could come together to create a "master mind."  
Masterminds vary in how they are structured, but there is typically time for each member to share successes and challenges they can all help work through.  It's a combination of accountability, peer support, education and brainstorming and is meant to sharpen your business skills and focus.  The goal is to create a powerful and intimate peer group that helps you set and achieve big goals and acts as support along the way.  Thus, confidentiality, commitment, a willingness to receive and give thoughtful advice, support, respect and honesty are VITAL for a mastermind to truly thrive.  
I've had the pleasure of participating in and running masterminds since 2009, both live and virtual, and I've seen their power in action!  And I'm so excited to give you the opportunity to leverage its power for YOUR BUSINESS NOW!
What is the Investment?
The investment to participate in the 6 Month Biz Women Rock Mastermind is $625/month or 1 payment of $3,500. 
What are you waiting for?  2018 is YOUR YEAR!
If you know you're ready to make BIG MOVES in your business in the coming year, get on the waiting list HERE!
* Because the group dynamics of a Mastermind make or break the experience for every single participant, I am making a point to speak with every single applicant about her business and goals before any investment is made (i.e. you have no financial responsibility to fill out the application).  Get on the waiting list HERE!
Spaces are limited, so get on the waiting list HERE!
What past Mastermind participants have to say…
This was my first mastermind and it not only met all my expectations but exceeded them. I loved the consistency of meeting each week and being accountable to our goals and what we accomplished the prior week. Katie, has a unique way of facilitating the group to stay focused and on track, which I really needed and admired. I also learned a great lesson by helping and supporting others in the group each week, by coming up with questions and solutions for their needs and businesses. It was exactly what I needed to push my business and UP level!! ~ Tina Conroy, The Intuitive Woman
I was very reluctant to mastermind because of the time commitment and I know where I want to go. BUT I am so grateful that I joined because Katie understands and supports us as whole people. She recognizes our emotions, gives us space to be ourselves without judgment, emphasizes our strengths, and has incredible business advice. I've learned that I might know where I want to go, but the race is long and I am constantly getting in my own way! As for the other members… they are beyond amazing. Supportive, intelligent, passionate, and really hold me up. Their experiences and insight make not only my business better, but me better! ~ Heather Robertson-Devine, Books Del Sur
Starting this Mastermind was a big deal for me. I almost didn't do it because of so many issues I was having in my personal and professional life. I felt I wouldn't be able to commit the way I needed to. I now look forward to every Tuesday when I get to connect with some of the most amazing women I have ever had the privilege of meeting. I have been able to set and meet most of my goals and have a group of supportive people who hear me without judgement and help me turn problems into solutions. This investment has grown me both personally and professionally. ~ Allie Corrigan, Team Summit
Joining Katie's mastermind was a gigantic leap of faith for me. I had never engaged with a business coach, or really participated in an entrepreneurial community (except quietly lurking on the Biz Women Rock! Facebook page!) before. I was the ultimate "solopreneur" – weathering the ups and downs and wins and losses of being a small business owner on my own. I knew I was stuck but I didn't know where or how to get unstuck. But the idea of committing to a mastermind scared me. I wasn't sure it was the right time. Now I see it was the PERFECT time. This mastermind has helped me in ways I never knew possible – and given me answers to questions I didn't even know to ask. Katie's expertise, enthusiasm, and generosity with her knowledge and her spirit are humbling. But the group is not just Katie. It is a community of likeminded, passionate, informed, smart, savvy, generous, kind women whose instincts are to hold each other up and celebrate each other. Suddenly I feel like I have — because I DO have — an incredible group of friends and colleagues cheering for me, thinking about me, and rooting for my business to succeed. I've never quite had such an experience before — I could not be more honored and overjoyed to be a part of this amazing team of fierce women! ~ Kimberly Birbrower, Big Picture Educational Consulting