THE 7 DAY HUSTLE CHALLENGE!
Let's face it…we as business owners are never 100% focused 100% of the time. Despite the best laid out plans, strategies, habits and systems we set up for ourselves, life seems to happen and disrupt our focus. Or our plans completely change because our business is ever-evolving and we need to shift and adjust and iterate…over and over again!
Totally normal. Happens to us all.
But business growth doesn't happen by making a long term plan and then simply running the race.
True business growth happens in the short term SPRINTS!
It happens when we can see the vision in the horizon but put all of our energy and focus into the short sprint ahead!
My big secret to establish new habits, generate revenue and completely shift my business is the 7 DAY HUSTLE CHALLENGE!
7 Days to commit to following through with everything that I say is important…7 days of just DOING the most important things!
YOU CAN DO ANYTHING FOR 7 DAYS!
Here's what happens every…single…time…
–> The chaos completely disappears from my business (and my life!)
–> I drive in serious revenue and/or make significant strategic partnerships because I'm focused and know exactly what I want!
–> I am crazy productive! My friends have constantly commented about how, when I'm in "the hustle challenge," I churn stuff out FAST!
–> I completely UPLEVEL my business! I find myself on a new level of thinking and possibilities for my business!
BUSINESS GROWTH DOES NOT HAVE TO BE LOOOOONG AND PAINFUL!
It's all about short sprints of focus!!
If there's one thing I've become really good at, it's RE-FOCUSING INTO ACTION.
This 7 Day Hustle Challenge has completely changed my life!! And I want YOU to have access to it so you can get results too!
JOIN ME FOR THE 7 DAY HUSTLE CHALLENGE!!
–>> REGISTER NOW AND GET YOUR BUSINESS LIFE COMPLETELY RE-FOCUSED INTO ACTION!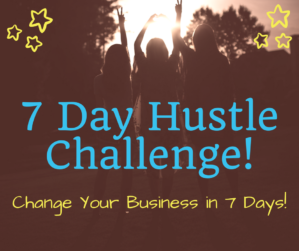 The 7 Day Hustle Challenge is Perfect For Your If…
** You are in need of a "reset"
** You need a QUICK JOLT of FOCUS in your business so you can get the right things done!
** You feel like obligations are taking over your life and you want a jumpstart to TAKE CONTROL over it!
** You are tired of just getting by and want to see RESULTS in your business asap!
** You know you need to establish a new routine that will have a big impact on your business growth but you just can't seem to do it.
**You know you need to START something and you keep putting it off!
With the 7 DAY HUSTLE CHALLENGE, you'll get…
A 25 minute customized strategy session with me to create your own personal 7 Day Hustle Challenge Plan! This challenge starts when YOU need it to start and is created just for you!
My Daily Priority List worksheet so you know exactly what to do every day!
Access to my "Master Your Schedule" education so you can have everything you need to make time for everything you want!
My personal morning routine blueprint that will set you up for success every single day!
A DAILY personal check in from me every single day for 7 days!! Holding you accountable and supporting you daily!
A CLEAR VIEW of what is most important to work on and what can get set aside…it's all about prioritization!
DAILY motivation and inspiration from me so you can complete the challenge successfully!!
This is over $600 in value for only $97!!
Why are short term sprints so powerful?
Because you don't have to weigh yourself down with completely overhauling your business forever. You just need to focus on 7 days. That's it. All you have to tell yourself is that you just need to do this for 7 days. And all of a sudden, anything you want to do becomes totally doable!!! (AND, most importantly…you SEE THE RESULTS of your focus!! Which keeps you motivated to keep on working this way after 7 days is up!).
It's about making it short and simple in your mind, giving yourself a structure that supports you and setting yourself up for short term success that gives you long term results!!!
Register TODAY for your customized 7 DAY HUSTLE CHALLENGE and get yourself back into focused action that creates results TODAY!!!