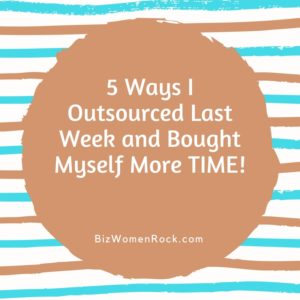 5 Ways I Outsourced Last Week and Bought Myself More TIME!
I wish I could clone myself!
There's not enough time in the day!
I'm SO busy!
Ever say any of these to yourself?
If you're like just about every other biz woman I have the pleasure of knowing, you probably have…a lot.  
OUTSOURCING AND SYSTEMS ARE THE ANSWER!  They say.  
And yes, it is true that ultimately, in order to do more with your time, you really want to work on mastering delegating and systemizing.  
But sometimes, that's easier said than done.
Which is why I wanted to share with you 5 EXAMPLES OF HOW I OUTSOURCED last week and gained 10-15 more hours in my week!
Quick note to set the stage: from Sunday through Wednesday last week, we were in the hospital with my daughter.  Won't go into the story here, but let's just say that after 4 days of testing, she is a-okay!  Whew!  But what that meant was that I was completely unavailable to work in my business for 4 days.  
Now, onto the examples…
I used Voxer to communicate action items to my Awesome Administrative Sidekick.

Voxer is an awesome voice messaging app (

http://voxer.com

) that sounds like a walkie-talkie.  It enables the other person to listen live as you're talking or allows them to listen at their convenience later.  Once I knew I was going to be in the hospital with my daughter, I voxered her and gave her instructions for actions I needed to have carried out.
→ I gave her the time and date of a Virtual Networking meeting I was hosting for my Elite Members.  With this information, she created a graphic in Canva, scheduled two emails to go out (one on Monday and one on the day-of) to let the Elite members know and posted in the private group for the Elite.  
→ I gave her the head's up that my solo podcast episode had been completed.  With this information, she went into the Google Doc where I house all the information for each podcast episode (show notes, specific calls to action, etc) and created a show notes page on my website.  She also created a graphic in Canva for the episode and when my Editor sent us both the final audio file, she added that into the player on the show notes page so you'll be able to listen to it from there on Monday! (read #3 for how I outsourced my podcast for this upcoming week!).
→ I gave her the dates of upcoming events for the Elite Members.  With this information she created a calendar for the month of July that I'll be able to share with my Elite members so they can put the events in their schedules ahead of time!
→ Also, once I'm done writing this email, I'll Voxer her to let her know it's done with the instructions for her to send it out as an email to you.  And, for her to create a graphic in Canva and create a blog post out of it for content on my website.  😉
I sent a Facebook message to my Social Media Manager and gave her instructions for the week.

 While I was sitting in the hospital, I was able to spend a few minutes messaging my social media manager, letting her know about anything that was coming up – any podcasts I was going to be featured on, any blog posts where Biz Women Rock had been mentioned, etc.  I also let her know about the

Make It Happen Mastermind

and that applications were open and that I wanted her to share about it.  I am usually a lot more directed in our weekly meetings, but since I was understandably distracted, I simply told her to "do her magic" and make sure things were still happening out in the social media sphere.  This worked because she's been with me for awhile and she

knows

my brand and what I stand for!
I did a major time hack for my podcast for Monday and gave it to my Editor.

My upcoming episode was planned to be a solo show.  And when that happens, I usually write a blog post and then turn it into an audio podcast (I'm a writer first and foremost!).  By Friday, we were out of the hospital and I was simply focusing on the MOST IMPORTANT things I needed to get done for the week and this upcoming podcast episode was a big one.  I was working in my husband's office and hadn't brought my microphone with me.  And I

knew

that if I waited until I got home to create the audio, it would never get done.  So, I opened my voice memo app on my iPhone, opened up the google doc where I write my blog posts and recorded away!  I was able to save the voice memo to my dropbox that my editor has access to!  Then, I completed the google doc I create for every episode that includes the show notes, live date, any editing instructions, etc. and notified my editor and my administrative sidekick that the show was done and ready to go.  From here…
→ My editor took the files from dropbox and created a final episode for Monday! (It's called Lessons from the Emergency Room, a piece I'm really proud of!  Make sure to listen to it on Monday!).
→ My administrative sidekick took all the show notes from the google doc and, as noted above in #1, created a graphic in canva and created the show notes page!  Boom!  Podcast episode is done!  Total time spent was about 30 minutes!
I asked my mom to do initial research on a rental car.

Yesterday, we left for Arizona to go visit my family and at the last minute, I decided to get a rental car.  Knowing my mom is a genius at finding travel deals, I asked her to find a few deals for me.  Friday afternoon, I got on the phone with her, checked out the 3 sites she had given me and booked my rental car in a matter of minutes.  Done!
I asked my Mommy Helper to help me clean and organize.

 Others may call her a babysitter, nanny or house cleaner…I just call her my Mommy Helper.  Our house was a mess since we had been in the hospital most of the week and I knew we needed to prep for our upcoming trip, so I asked her to come over on Friday and created a list of things for her to do (which meant that I didn't have to be there).  One of those items was cooking fish I had in the fridge (so I could have lunch when I came home) and the rest were cleaning, laundry, etc.  When I came home, lunch was ready and my house was clean.  She probably saved me 4-5 hours easily!  Extra tip: I pay her through Venmo, an app that allows me to pay people for whatever.  So, there was no need for me to be home to pay her.  Freedom!
If you've ever wanted MORE TIME or wanted to DO MORE or wanted to outsource stuff you don't love doing, here are practical ways you can do it!  
My challenge to YOU is to outsource at least ONE THING over the next week…I promise you, it's really not that hard.
Here's to cloning yourself!
~ Katie
PS: Determined to crush your 2017 goals? But realizing that you're a bit far behind where you want to be as we hit the mid-year mark?  Apply today to be part of the MAKE IT HAPPEN MASTERMIND!!! It's the exact structure, accountability, brainstorming and intimate support you need to ensure you ROCK 2017!! Apply here today…there are only 3 spots left! → http://bizwomenrock.com/mastermind