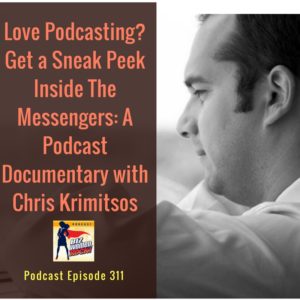 Love Podcasting? Get a Sneak Peek Inside The Messengers: A Podcast Documentary with Chris Krimitsos
 Love Podcasting? Get a Sneak Peek Inside The Messengers: A Podcast Documentary with Chris Krimitsos
This episode was made for you if…a) you LOVE podcasts or b) you are a podcaster or c) you are a passionate entrepreneur and you want to see behind the scenes of what it really takes to manifest a giant vision.
Chris Krimitsos is a community builder, event creator, podcast lover and movie maker (and yes, he's my husband).  And during today's interview, I'm talking to him about the super high quality documentary he made about the power of podcasting called The Messengers: A Podcast Documentary.  The movie is an incredible inside view of what podcast is, why it's so powerful and why we podcasters do it.  I'm obviously biased in saying this, but it's an INCREDIBLE MOVIE!
I'm featuring Chris and this movie for two reasons.  One is because I believe his journey of bringing this movie to life and getting it to compete with major Hollywood productions in iTunes is a beautiful business case study we can all learn from.  And two because I'm asking for your help.  
If this podcast has ever given you ANY VALUE AT ALL, I am humbly asking you to go to iTunes and pre-order the movie.  It's $5.99 and the reason pre-orders are so important is because, when his movie releases on August 23, all the pre-orders will count towards his numbers for that day…thus giving the movie a HUGE push in rankings and allowing his movie to be seen right next to the popular Hollywood movies.  And when this happens, others can notice…possibly Netflix and Amazon.  You can pre-order here → https://itun.es/us/MbR-kb
As a little bribe, I'm giving away over $5,000 worth of prizes!  If you pre-order this movie by FRIDAY, AUGUST 18th, I'm putting you in a drawing and 10 people will get their choice of WHATEVER PRODUCE OR SERVICE I have to offer that you want!  It could be a 60 Minute Strategy Session, my Facebook Groups Rock course, my Rock Your Retreat course and there is even one spot open to join the Make It Happen Mastermind.  Listen to the end for all the details (because I can only enter you in this drawing when I KNOW you pre-ordered, so you have to let me know!).
If you love listening to podcasts, love your podcast or just love being an entrepreneur, I would so appreciate you pre-ordering this movie!
You can find out more about Chris and his documentary at http://themessengersdoc.com
Today's show is sponsored by…
THE BIZ WOMEN ROCK ACADEMY
The Biz Women Academy Membership is perfect for you if…
You are obsessed with growing your business!

You see your business as a vehicle for doing good in this world and living out a purpose!

You love learning from others!

You want to incubate yourself with other action-taking business women who believe anything is possible!

You are tired of having others around you tell you "you can't do that!"

You want access to your own personal "safe space" of positive women who can give you advice, feedback and pats on the back when you need them!

You want regular peeks inside strategies that are working for your fellow Academy members so you can learn from them and apply it to your business!
If you nodded your head to any or all of the above, CLICK BELOW to learn more and become a member today!
Membership is just $37/mo!