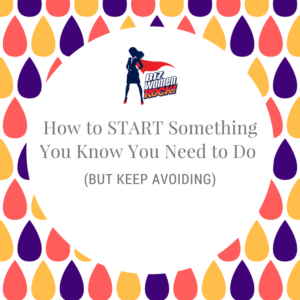 How to START Something You Know You Need to Do (But Keep Avoiding)
Have you ever found yourself avoiding a task that you know you needed to get done?
It may sound like this in your head…
Ugh, I don't want to do sales calls!
I suck at writing so I'm not going to write my website copy today.
I don't have time to look at my financials!
Or maybe you've avoided an entire PART of your business that you know needs your attention?
I don't have enough time to create content every day!
I'll launch my podcast one of these days.
Yeah, I know I need to create better systems, but it's just too hard.
So, what happens when these thoughts consciously or unconsciously come into our heads?  
WE AVOID.
We get onto social media and check in on our friends.
We dive into other projects that are easier…ones that will easily let us check off an item on our to-do list so we still feel "productive."
We deflate against the pressure of the task we don't want to do and turn off business altogether.
Ultimately…we STAY COMPLACENT.  We STAY SAFE.  We STAY SMALL.
That thing you know you need to do, or that part of your business that you know needs your attention is the place where growth exists.  And when you choose NOT to do the work that needs to get done, you choose not to grow.  
And if you're not growing, you're dying.
So, the question I get a lot from the amazing ladies of the Biz Women Rock community is…
How do I START?
Here are 4 EASY ways to START ANYTHING…
1. Take the emotion out of it. Stop trying to dissect the psychological meaning behind why you keep avoiding it. Sure, it can be helpful for you to see that avoiding sales is tied back to your parents teaching you that too much money is a bad thing and perhaps you need to do some inner work around some money blocks, but ultimately this information doesn't do anything for you in the moment. As a matter of fact, it just gives your brain another distraction to focus on instead of the important thing you really need to do! Extract how you feel from the task you need to complete and just freakin' DO IT.
2. Commit to a 7 day sprint. You can do anything for 7 days! This is a training of your mind. Tell yourself that you only have to do this task or work on this part of your business for 7 days. When you create a timed sprint, the pressure to have to do something forever is gone. This works especially well if what you need to work on is business building (ie cleaning up or creating systems and processes) or you want to develop a habit you know will be beneficial for you (ie creating content to share every day). Commit to working on it for 1 hour every day for 7 days so you can develop the habit!
3. Find an accountability partner. Reach out to your coach, a friend, a sibling…anyone! Tell them about your 7 day sprint and then commit to check in with them every single day. Have them hold you accountable.
4. TAKE ACTION. You have to learn how to trust yourself to DO the things you promise yourself you're going to do. So, now that you've armored yourself with the support and structure to succeed, it's all up to you. Show up. Take ACTION. It's the ONLY way to get what you want. That's it. Decide to do it and then do it. There is nothing in between these two. Do drama. No thinking. No noise. No excuses. Just a decision and an action. It's that simple.
I've been an athlete since I was a kid and I now know that the practice of any sport was the best training for this concept.
While I would spend innumerable hours and hours training my body and my mind, when it was time to perform – when I was up to bat in softball or it was my turn to serve in volleyball or the buzzer went off to start the triathlon – there was no thinking.  It was just action.  My head was clear and quiet and I just DID whatever I was there to do.  
SO, WHAT DO YOU NEED TO JUST DO?
My guess is that they are tasks that will have profound effects on the growth of your business!  
Follow these simple steps and get yourself into action!  Because once you do, you'll realize two things…
1) It wasn't nearly as hard or as painful as you thought it was.
And…
2) You'll see results from your actions immediately!
Have an awesome, ACTION-TAKING day!
~ Katie
PS: Need a bit more structure and push to get yourself into action?  Need someone to hold you accountable for the growth you say you want in your business?  Then let's talk!  I help incredible, big thinking business women like you get results in their companies every single day!
My coaching clients come to me because…
They want to get from point A to point B in their businesses and they're not quite sure how to do it.

They need someone to look in on what they're doing and help strategize on how to do it more efficiently and powerfully!

They're ready to go from "just getting by" in their business to living BIG in their businesses and they know they need support to do it!

They're ready to START SOMETHING and need the extra accountability, ideas and support to do it!

Something is

not

working the way they're running their businesses now and they want strategic brainstorming on how to improve it!
If this is what you're looking for too, then Email Me Now!  I'm happy to get on a quick call with you to see what your needs are and to see if I can help!