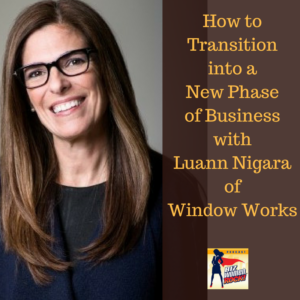 How to Transition into a New Phase of Business with Luann Nigara of Window Works
How to Transition into a New Phase of Business with Luann Nigara of Window Works
It's going to take you all of 5 seconds to fall in love with Luann Nigara.  She's a brilliant woman entrepreneur who's been running Window Works, a company that provides custom window and awning treatments, for over 30 years.  In that time, she and her two partners – her husband and her cousin – have grown to 3 locations in New Jersey (and then retracted back into their one hub store), managed a growing team and dealt with just about every entrepreneurial experience along the way.  
Back in 2015, Luann launched her podcast, A Well Designed Business, a show where she marries her love of business and interior design and talks to folks in her industry.  And from the podcast, an entirely new business has emerged…private coaching, masterminds and live events.  
And even though this type of business model is all new to Luann, her strategy behind all of it is incredibly INTENTIONAL.  
During this incredible conversation, Luann and I discuss why she started her podcast as a TRANSITIONAL PLATFORM and how she saw it as the building block into the new phase of their company.  We talk very candidly about how she had to present the podcast business plan to her husband and cousin and start at their base level question of "what is a podcast and how is it going to help us?"  She shares a powerful exercise she did before she launched her podcast that has proven to be monumental in what's happened since.  
And we finish by talking about Luann's two biggest habits that she credits to keeping her in line with her WHY and moving forward successfully all these years! (they both gave me goosebumps!).
You can check out more about Window Works here → https://www.windowworks-nj.com/
And make sure to listen to Luann's podcast, A Well Designed Business here → https://luannnigara.com/a-well-designed-business/
**********************************************************************

We're well into 2018 and if you've been a little off-kilter or further away from that FOCUS and DETERMINATION you had just a few weeks ago, then it's not too late to do something about it!
Download your FREE 2018 Success Kit and it'll get you back into FOCUSED ACTION ASAP!
It'll help you design your BEST YEAR YET!
Get it HERE now –> https://goo.gl/A48K7v <—-
It includes…
* 7 simple steps that will help you get clear on what is possible in 2018!
* 7 videos for 7 days that give you a deeper understanding of each step! They're quick and will inspire you to take action!
* My #1 strategy (Step 7!) for making ideas turn into RESULTS! Planning and strategizing is great, but if there's no action behind it, then it all means nothing! You'll get my super simple strategy for ensuring that what you want to create in 2018 actually happens!
* A fillable PDF worksheet with prompts and examples that will easily focus you on what's to come in 2018!
Get it HERE now –> https://goo.gl/A48K7v
Here's to a phenomenal 2018!