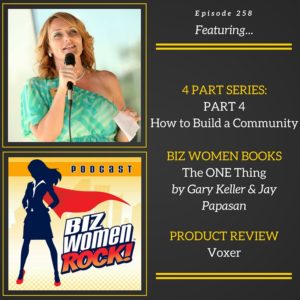 258: How to Build a Community Part 4 and The ONE Thing Book Review
LISTEN HERE FOR THE ENTIRE 4 PART SERIES!
Part 1
Part 2
Part 3
Part 4
Biz Women on the Move
The Biz Women on the Move segment features the amazing accomplishments of the members of the Biz Women Rock community!  Today, we're featuring big wins from two of our community members…
Patti Lustig of The Extreme Productivity Community
Jill Greber Health Coach with the i Can Doctor
The Main Event – [4 PART SERIES] How to Build a Community – PART 4
The Main Event is our main feature of the show.  Sometimes a deep dive interview with a kick ass business woman, sometimes a case study digging into a phenomenal business strategy, sometimes a diatribe from me about some cool lesson learned in business…whatever it is, its always chalk full of wisdom for you.  Today on our Main Event…
This week it's your truly bringing you the best of the best about HOW you can build a powerful community!  This is more than just adding more followers on social media, having more readers of your blog or listeners of your podcast.  This is about bringing them all together, uniting them under your brand and leading them with love and purpose!  I'm also bringing in some of the most influential and highly respected community builders I know to give you their insights on how amazing communities are built!
This segment is sponsored by…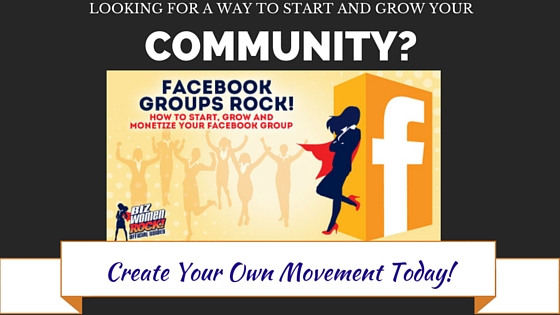 Biz Women Books
Biz Women Books is the perfect place to review our favorite books that can make an impact on your biz!  Today we're reviewing…
The ONE Thing by Gary Keller & Jay Papasan  I can't possibly tell you how much I LOVE this book!  Here's the main concept: throw away the to-do lists and your "top 3 priorities."  Get clear on what the ONE THING is that you need to focus on that will make the most impact in your life and focus in on it until it's done.  Doing so will have a multiplier effect and get you moving forward with maximum velocity!  If you love LISTENING to books like I do, you can get this book FREE on Audible by clicking here!
Product Review
I'm reviewing the latest and greatest business tools and products so YOU can get your business running more efficiently and effectively!  Today, I'm reviewing…
Voxer.  My new fav app!  Go download it from your phone's app store today and start voxing!  Voice messaging on steroids!!!  I feel like a kid again.