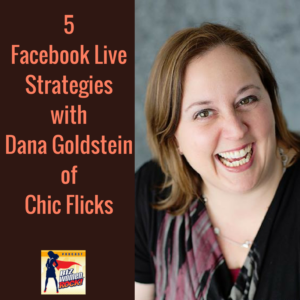 5 Facebook Live Strategies with Dana Goldstein of Chic Flicks
5 Facebook Live Strategies with Dana Goldstein of Chic Flicks
Dana Goldstein has been an active member of the Biz Women Rock community for some time.  Her company Chic Flicks produces high quality videos for savvy business women who want to leverage the power of video for marketing and branding to grow their businesses.  Additionally, she has an arm of her company that focuses on Facebook LIVE videos.  She works with clients to create Facebook Live campaigns that produce results!  
During this conversation, Dana walks us through 5 strategies (+ 1 bonus!) you can use to make your Facebook Live videos really WORK for you!  
In a day in age when video marketing and personal branding are central to sharing your message and attracting your ideal clients to you, these Facebook Live Strategies are vital!
You can check out more about Dana here → https://chicflicks.ca/
*********************************************************************************************************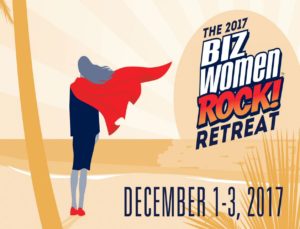 Ready to create some MASSIVE RESULTS for your biz in 2018? Then the Biz Women Rock Retreat was designed just for you!
The Biz Women Rock Retreat is your opportunity to focus on YOU for 3 days! How often do you have uninterrupted time to fully envision what you want your business to BE, the RESULTS you want it to produce and strategize on HOW to make it all happen?
The Biz Women Rock Retreat is the perfect combination of intensive exercises, group masterminds, partner shares, goal setting, annual planning, accountability and FUN!
Throughout Friday, Saturday and Sunday, Katie will lead you through strategic exercises that will assist you in solidifying your 2018 business vision, extract SMART goals that will pave the way to your success, create a doable action plan that proactively drives your scheduled activities for the year and glues you together with an intimate group of business women who can join your 2018 Success Team!
Weaved throughout the weekend are opportunities for you to indulge in massages, Reiki sessions, and pool & hot tub time! Yes, we'll be working, but also truly giving ourselves a retreat!
This is an intimate, powerful experience with you and your fellow Biz Women, so RESERVE YOUR SPOT TODAY!!
http://bizwomenrock.com/retreat
I can't wait to see you there!