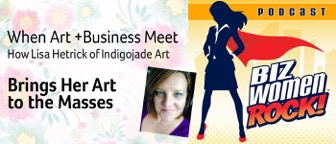 When Art and Business Meet: How Lisa Hetrick of Indigo Jade Art Brings Her Art to the Masses
When Art and Business Meet: How Lisa Hetrick of Indigo Jade Art Brings Her Art to the Masses
I've had the privilege of working 1on1 with Lisa Hetrick since the summer of 2017 and what I've discovered in that time about her work ethic, her persistance and her devotion to getting her art into the hands of as many people as she possibly can is why she's my guest today.  
Lisa is the creator of Indigo Jade Art (https://indigojadeart.com/).  She creates art that brings more happiness and joy into the world.  During our conversation, Lisa shares why she decided to bring her art direct to the consumer and how she's doing that successfully!
She shares how she spent one year creating art for the sake of art…not with the intention to sell it.  This act allowed her to heal from a painful business break up that changed everything for her.  This year allowed her to discover an entirely new style of art that she became dedicated to sharing with the world so each individual who experienced it could heal, find joy and feel uplifted!
We touch on her Instagram strategies, how and why she's re-organized her website to better help her come up in searches "in the Googly" as Lisa says 😉 and why she decided to put her art on merchandise through Society 6 (https://society6.com/indigojadeart) and add it to her store.  
During this interview, you'll get a peek inside how Lisa approaches her marketing and business strategy for her artwork so that "the broke artist" is a label she stays far away from!
Check out more about Lisa's awesome art (and get some for yourself!) here → https://indigojadeart.com/
*********************************************************************************************************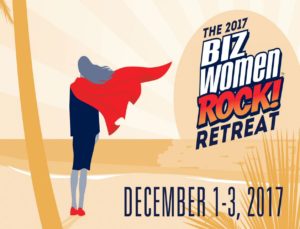 Ready to create some MASSIVE RESULTS for your biz in 2018? Then the Biz Women Rock Retreat was designed just for you!
The Biz Women Rock Retreat is your opportunity to focus on YOU for 3 days! How often do you have uninterrupted time to fully envision what you want your business to BE, the RESULTS you want it to produce and strategize on HOW to make it all happen?
The Biz Women Rock Retreat is the perfect combination of intensive exercises, group masterminds, partner shares, goal setting, annual planning, accountability and FUN!
Throughout Friday, Saturday and Sunday, Katie will lead you through strategic exercises that will assist you in solidifying your 2018 business vision, extract SMART goals that will pave the way to your success, create a doable action plan that proactively drives your scheduled activities for the year and glues you together with an intimate group of business women who can join your 2018 Success Team!
Weaved throughout the weekend are opportunities for you to indulge in massages, Reiki sessions, and pool & hot tub time! Yes, we'll be working, but also truly giving ourselves a retreat!
This is an intimate, powerful experience with you and your fellow Biz Women, so RESERVE YOUR SPOT TODAY!!
http://bizwomenrock.com/retreat
I can't wait to see you there!