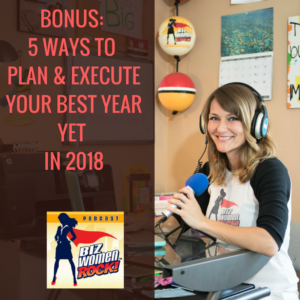 BONUS: 5 WAYS TO PLAN & EXECUTE YOUR BEST YEAR YET IN 2018
BONUS: 5 WAYS TO PLAN & EXECUTE YOUR BEST YEAR YET IN 2018
.
Today's bonus episode is from a Masterclass I recorded earlier today that received a huge amount of feedback for being practical and actionable, so I wanted to turn around and share it with you as soon as possible!
This was recorded as a Live Masterclass on a zoom call, which means you're going to hear the live chatting back and forth between me and the participants.
Before we even got into the 5 steps, I discussed 2 big "pre-steps" to go through…
PRE-STEP 1: Take an Inventory of 2017.
PRE-STEP 2: Brainstorm on what's possible for 2018.
And then…here are the 5 steps. To get the FULL RUN-DOWN of each of these, along with practical examples and applications, make sure to LISTEN to the entire episode!
1. Schedule your execution and marketing for what's already on the Horizon.
2. Decide on 2 Areas of Focus
3. Decide on 3 Offerings
4. Create a Daily Mindset Practice
5. Commit to the SUPPORT You Need!
You'll hear us talk about the 2017 Virtual Retreat, as I happily gave away 2 free tickets on the live call. If you know you want the 2017 Virtual Retreat, you can invest in it HERE! –>
http://bizwomenrock.com/2017-virtual-retreat/
Lastly, I asked everyone to commit to TWO THINGS at the end of this MASTERCLASS:
1. Fill out the application to the 2018 Biz Women Rock Masterminds. You can't do this by yourself. And Masterminds are a tremendous tool for you to use as you go big next year! Take a few minutes to read about what the 2018 Masterminds are all about, what the investment is and if it speaks to you, fill out the quick application here: 
http://bizwomenrock.com/2018-masterminds/
2. Set aside ONE DAY to get into this work and EXECUTE your plan!
I'm sending you TONS OF LOVE as you set out to create your best year yet in 2018 and am here to help support you in any way I can!
Love,
Katie