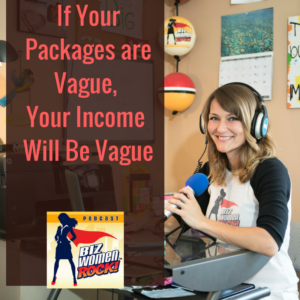 If Your Packages are Vague, Your Income Will Be Vague
  If Your Packages are Vague, Your Income Will Be Vague
If your packages are vague, your income will be vague.

I don't care if you're struggling to pay rent next month or you're a $5 million business. This is a crucial concept I've seen over and over again in businesses and a major reason you're not bringing in the kind of money you want!

On today's episode, I'm sharing my thoughts and 3 STRATEGIES you can use to get CLEAR on your packages (i.e. what you offer to potential clients!).
If you're struggling with not bringing in enough income or you're not converting conversations into clients, then this is the episode for you!!
***
The Biz Women Rock Retreat is officially open and happening December 1-3, 2017 Im Orlando, Florida!
Come join us for an intimate, powerful and luxurious experience that will help you get clear on what you want your business to be in 2018 and create a solid plan for making it happen! You'll be part of an amazing sisterhood…other women just like you who are hungry to grow businesses they love!
Spaces are limited, so reserve your spot today! —>> http://bizwomenrock.com/retreat
Today's show is sponsored by…
THE BIZ WOMEN ROCK ACADEMY
The Biz Women Academy Membership is perfect for you if…
You are obsessed with growing your business!
You see your business as a vehicle for doing good in this world and living out a purpose!
You love learning from others!
You want to incubate yourself with other action-taking business women who believe anything is possible!
You are tired of having others around you tell you "you can't do that!"
You want access to your own personal "safe space" of positive women who can give you advice, feedback and pats on the back when you need them!
You want regular peeks inside strategies that are working for your fellow Academy members so you can learn from them and apply it to your business!
If you nodded your head to any or all of the above, CLICK BELOW to learn more and become a member today!
Membership is just $37/mo!