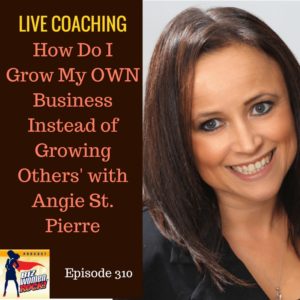 LIVE COACHING: How Do I Grow My OWN Business Instead of Growing Others' with Angie St. Pierre
LIVE COACHING: How Do I Grow My OWN Business Instead of Growing Others' with Angie St. Pierre
For almost a decade, Angie St. Pierre has been helping other people in their businesses.  She's acted as an Administrative and Personal Assistant and because of this, has mastered efficiencies, processes, systems, marketing, social media and oh so much more.  In December 2016, she made the decision to go out on her own and help build her OWN business.  While she started out being a for-hire assistant for her clients – actually doing the work they needed done, she's transitioned into consulting and strategizing for them instead, educating them on how they can better run their back offices, sharing tools and resources that can help them run a more efficient business and also strategizing on how they can market their businesses in creative ways.  
During this live coaching session, Angie was stuck and her head was clustered with all the things she SHOULD be doing to grow her business (sound familiar?) ;).  So, I started where I usually start with any new client…I asked her what her dream biz looked like in her head.  What is she spending her time doing?  What is she giving?  Who is she helping?  Her answer looked different than the business she now has, so our entire strategy session focuses on how she can intelligently evolve her business from where it is now to where she wants it to be…all the while being incredibly present and grateful for where she is now!  
I challenged her on who her avatar really is vs. who she thought it was and we were ultimately able to uncover her TRUE GIFT that she is meant to share.
While we didn't solve the world's problems, I think we got off to a great start… 😉  
Find out more about Angie here → https://www.facebook.com/angstpierre
These LIVE COACHING SESSIONS are here so you can get deep insight into business issues, ideas and challenges that we all face as we create strategies, solutions and action plans that you can benefit from!  It's also a great way to see just how transformative it can be to allow another qualified person into your business so you can save time, money and energy that you would normally take figuring it out on your own!  We're in this together!
If you are interested a strategy session for YOU and YOUR business, check out the different options you have HERE or simply email me at katie@bizwomenrock.com to let me know how I can best serve you!
Today's show is sponsored by…
THE BIZ WOMEN ROCK ELITE!
The Elite Membership is perfect for you if…
You are obsessed with growing your business!

You see your business as a vehicle for doing good in this world and living out a purpose!

You love learning from others!

You want to incubate yourself with other action-taking business women who believe anything is possible!

You are tired of having others around you tell you "you can't do that!"

You want access to your own personal "safe space" of positive women who can give you advice, feedback and pats on the back when you need them!

You want regular peeks inside strategies that are working for your fellow Elite members so you can learn from them and apply it to your business!
If you nodded your head to any or all of the above, CLICK BELOW to learn more and become a member today!
Membership is just $37/mo!