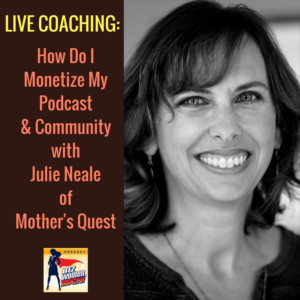 LIVE COACHING: How Do I Monetize My Podcast & Community with Julie Neale of Mother's Quest
LIVE COACHING: How Do I Monetize My Podcast & Community with Julie Neale of Mother's Quest
Julie Neale is a total sweetheart.  She started her business and podcast Mother's Quest in 2016 so she could talk about and support fellow moms who were looking for a more EPIC life…as she was on her own quest.  
During this LIVE COACHING SESSION, we do a deep dive into how Julie can do a better job of monetizing her podcast and community.  She's aware she's at the beginning phases of this (at the time of this recording, she had just brought on her first paying private clients!) and is prepared for a year of experimentation, but feels like there's something she's not seeing.
So, I walk her through a few specific exercises that help her get clear about WHAT she has to offer that provides value to her mothers and HOW she can translate that into helping her create a financial goal she has for December 1, 2018!
PS: it's worth noting here that Julie has one of the BEST and most TOUCHING ways she monetizes her podcast!!!  It's called a dedication and it's brilliant!
There are a few tools I've used for many of my private coaching clients that I discuss here with Julie and one of them is the Decision-Making Matrix, which I am making available to you, totally FREE.
Get the Decision Making Matrix here → http://bizwomenrock.com/decision
The final conclusion we come to is this: she already has everything she needs to GO! 🙂
Check out more about Julie here → http://mothersquest.com/
These LIVE COACHING SESSIONS are here so you can get deep insight into business issues, ideas and challenges that we all face as we create strategies, solutions and action plans that you can benefit from!  It's also a great way to see just how transformative it can be to allow another qualified person into your business so you can save time, money and energy that you would normally take figuring it out on your own!  We're in this together!
If you are interested in private coaching and strategy, then let's talk!  You can set up a 15 Minute Match Session to see if we're a perfect match! 😉 http://bizwomenrock.com/workwithkatie/
**********************************************************************

We're well into 2018 and if you've been a little off-kilter or further away from that FOCUS and DETERMINATION you had just a few weeks ago, then it's not too late to do something about it!
Download your FREE 2018 Success Kit and it'll get you back into FOCUSED ACTION ASAP!
It'll help you design your BEST YEAR YET!
Get it HERE now –> https://goo.gl/A48K7v <—-
It includes…
* 7 simple steps that will help you get clear on what is possible in 2018!
* 7 videos for 7 days that give you a deeper understanding of each step! They're quick and will inspire you to take action!
* My #1 strategy (Step 7!) for making ideas turn into RESULTS! Planning and strategizing is great, but if there's no action behind it, then it all means nothing! You'll get my super simple strategy for ensuring that what you want to create in 2018 actually happens!
* A fillable PDF worksheet with prompts and examples that will easily focus you on what's to come in 2018!
Get it HERE now –> https://goo.gl/A48K7v
Here's to a phenomenal 2018!