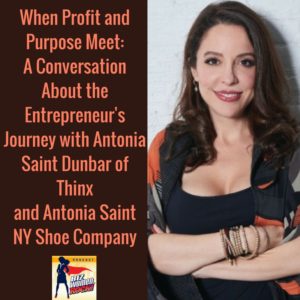 When Profit and Purpose Meet: A Conversation About the Entrepreneur's Journey with Antonia Saint Dunbar of Thinx and Antonia Saint NY Shoe Company
When Profit and Purpose Meet: A Conversation About the Entrepreneur's Journey with Antonia Saint Dunbar of Thinx and Antonia Saint NY Shoe Company
Antonia Saint Dunbar and her 4 different companies EMBODY what it means to have a profitable business that is driven by purpose and passion.  Antonia is the Founder of Thinx, a company that creates period panties for women. She also created Icon, same concept, but for women experiencing incontinence.  Her most recent companies revolve around solving yet another pain point or most women – painful shoes.  Her shoe line, Antonia Saint NY are heels that feel like you're wearing a sneaker.  And lastly, the Brooklyn Shoe Factory was created so she could fulfill the custom orders for her shoe and for the shoes of other companies.  
Whew!  Got all that?
Basically, Antonia is serious about starting and growing companies that create products that help women AND make a difference in the world.  
During this inspirational conversation, Antonia and I talk about how she set up her companies to make a difference and solve big world problems, which is why I would consider her a "social entrepreneur."  We talk about the massive impact leveraging crowdfunding campaigns has been for both Thinx and Antonia Saint NY Shoe Company (her Kickstarter campaign for her shoes raised $1.8 million with 7,000 backers!!!  Check it out here: https://www.kickstarter.com/projects/antoniasaintny/high-tech-heels-and-flats-that-feel-like-sneakers).
Lastly, we discuss 3 very important best practices that Antonia has that helps her make it all work (by the way, have I mentioned that, as of the time of this recording, she has a 19 month old?).  
I am so excited for you to hear from Antonia and get a peek inside her mind!  
Check out more about Thinx here: https://www.shethinx.com/
**********************************************************************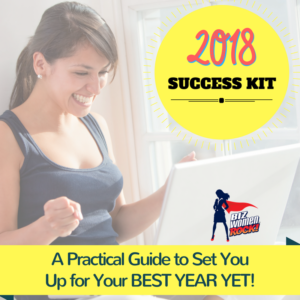 Ready to have your BEST YEAR YET in 2018?
Then grab your totally FREE 2018 Success Kit!
Get it HERE now –> https://goo.gl/A48K7v
It includes…
* 7 simple steps that will help you get clear on what is possible in 2018!
* 7 videos for 7 days that give you a deeper understanding of each step! They're quick and will inspire you to take action!
* My #1 strategy (Step 7!) for making ideas turn into RESULTS! Planning and strategizing is great, but if there's no action behind it, then it all means nothing! You'll get my super simple strategy for ensuring that what you want to create in 2018 actually happens!
* A fillable PDF worksheet with prompts and examples that will easily focus you on what's to come in 2018!
Get it HERE now –> https://goo.gl/A48K7v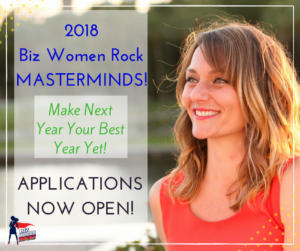 Strategic growth CAN create exponential results…IF you have the right structure and take the right actions!
And that's what you'll get in the 2018 Biz Women Rock Mastermind!
Because when you CHOOSE to put the right FOCUS, ATTENTION and ACTIONS into your business, you create massive impact for your revenues, your clients and your life!