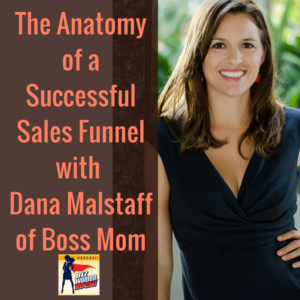 The Anatomy of a Successful Sales Funnel with Dana Malstaff of Boss Mom
  The Anatomy of a Successful Sales Funnel with Dana Malstaff of Boss Mom
I've been a fan of the Boss-Mom podcast for awhile now and I knew I had to get its host and Founder of the Boss Mom Movement, Dana Malstaff on my podcast to share her wisdom with you.  Truthfully, we could have just recorded our pre-interview bantering about all things business and it would have given you a fly-on-the-wall view of how passionate, serious and strategic we both are at growing our businesses (and perhaps at some point I'll take my recorder with me to a happy hour with some of my fellow women entrepreneurs!).  But for the sake of today's episode, I wanted to give you access to Dana's brilliant knowledge on SALES FUNNELS.
To some, they're scary.  To some, they're overwhelming.  To some, they're the lifeblood of their business!  Whatever a funnel is for you, I promise you that today's episode will give you a ton of information about how to create a funnel that works FOR your business – i.e. brings in more revenue, builds deeper relationships with your potential customers and more!  
During this interview, Dana defines what a funnel actually is, why you WANT to get savvy about creating them for your business and a seriously awesome step-by-step on the components of a successful funnel.  At the end, you'll get some practical tools and steps you can take to get started on starting or upgrading your funnel!  
And Dana's even giving you a totally FREE template of what she calls the "free to paid" journey – it's a step by step of everything we talk about here!  You can access that freebie here → http://boss-mom.com/journey  
*********************************************************************************************************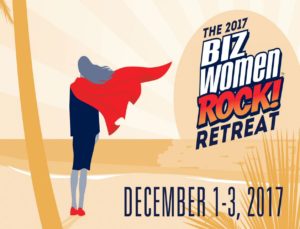 Ready to create some MASSIVE RESULTS for your biz in 2018? Then the Biz Women Rock Retreat was designed just for you!
The Biz Women Rock Retreat is your opportunity to focus on YOU for 3 days! How often do you have uninterrupted time to fully envision what you want your business to BE, the RESULTS you want it to produce and strategize on HOW to make it all happen?
The Biz Women Rock Retreat is the perfect combination of intensive exercises, group masterminds, partner shares, goal setting, annual planning, accountability and FUN!
Throughout Friday, Saturday and Sunday, Katie will lead you through strategic exercises that will assist you in solidifying your 2018 business vision, extract SMART goals that will pave the way to your success, create a doable action plan that proactively drives your scheduled activities for the year and glues you together with an intimate group of business women who can join your 2018 Success Team!
Weaved throughout the weekend are opportunities for you to indulge in massages, Reiki sessions, and pool & hot tub time! Yes, we'll be working, but also truly giving ourselves a retreat!
This is an intimate, powerful experience with you and your fellow Biz Women, so RESERVE YOUR SPOT TODAY!!
http://bizwomenrock.com/retreat
I can't wait to see you there!