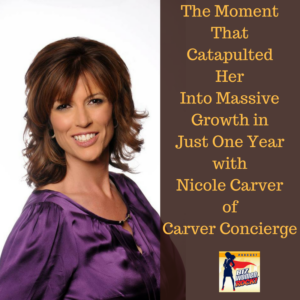 The Moment That Catapulted Her Into Massive Growth in Just One Year with Nicole Carver of Carver Concierge
 The Moment That Catapulted Her Into Massive Growth in Just One Year with Nicole Carver of Carver Concierge
Nicole Carver is the Founder and CEO of Carver Concierge, a company that handles all of the things that busy professionals need to get done in our lives, but don't make us money or we don't enjoy.  Personal assistant and lifestyle services on steroids.  
The intention of today's episode is to take a look back on the year that Nicole has experienced and share some of the major focuses she had in order for her to experience 300% growth!  And she credits it all starting from ONE MOMENT…her hot seat at last year's Biz Women Rock Retreat.  
During our conversation, we talk about the core issue she brought to the hot seat – how do I charge what I'm worth? – and how her insights from that hot seat completely transformed how she showed up to her business thereafter.  
She shares 3 major stepping stones that has given way to her massive growth this year:
Redefining her packages

Investing her time and money into working ON her business

Becoming the CEO of her company and leading a team
But don't think we're just sharing the good, sexy stuff.  Nicole also is open about what her biggest challenges have been this year and admits that she was ready to give up her business more than once!
I'm so darn proud to share Nicole's story with you and know it'll be a tremendous reminder for you to look in on your own year and recognize just how far you've come and how much you've accomplished!  Enjoy!
Find out more about Nicole and Carver Concierge here: http://www.carverconcierge.com/
Ready to have your best year yet and experience the kind of growth Nicole has had?  It all starts with DECIDING…check out the Biz Women Rock Retreat and reserve your spot today!  http://bizwomenrock.com/retreat  
*********************************************************************************************************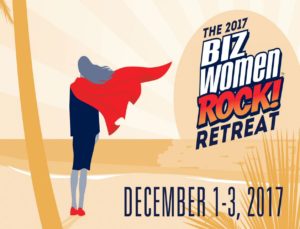 Ready to create some MASSIVE RESULTS for your biz in 2018? Then the Biz Women Rock Retreat was designed just for you!
The Biz Women Rock Retreat is your opportunity to focus on YOU for 3 days! How often do you have uninterrupted time to fully envision what you want your business to BE, the RESULTS you want it to produce and strategize on HOW to make it all happen?
The Biz Women Rock Retreat is the perfect combination of intensive exercises, group masterminds, partner shares, goal setting, annual planning, accountability and FUN!
Throughout Friday, Saturday and Sunday, Katie will lead you through strategic exercises that will assist you in solidifying your 2018 business vision, extract SMART goals that will pave the way to your success, create a doable action plan that proactively drives your scheduled activities for the year and glues you together with an intimate group of business women who can join your 2018 Success Team!
Weaved throughout the weekend are opportunities for you to indulge in massages, Reiki sessions, and pool & hot tub time! Yes, we'll be working, but also truly giving ourselves a retreat!
This is an intimate, powerful experience with you and your fellow Biz Women, so RESERVE YOUR SPOT TODAY!!
http://bizwomenrock.com/retreat
I can't wait to see you there!