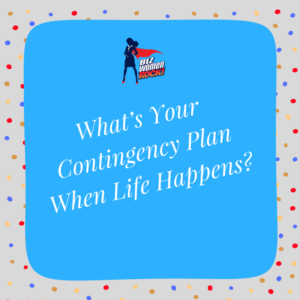 What's Your Contingency Plan When Life Happens?
Have you ever had BIG PLANS that got interrupted?
.
Yesterday, I woke up angry.
.
Because it was 7:15am.
.
I had BIG PLANS to get up at 5:00am so I could get some serious work done before I spent the entire day with my little one.  You see, yesterday was a "Sedona day," which means that my only windows for work are in the morning and during nap time.  A big shift from the usual stretches I have on days when she's in school.
.
So getting up early on these days are extra important to me.
.
Especially when I'm so flippin' excited about working!
.
But yesterday, it didn't happen.  
.
Why?
.
Because…life.
.
I was up until midnight.
.
She uncharacteristically woke up 3 times the night before.
.
So when my alarm went off at 5:00am, no amount of excitement could overpower the exhaustion in my bones.
.
And I went back to sleep.
.
How many times have you been SO COMMITTED to doing something…and then it just didn't happen because…life happened?
.
Yesterday morning is a small example of our business journeys.  
.
We have BIG PLANS.  And we go forward at 100 mph fulfilling those plans.  But then…
.
Life happens.  
.
And we get derailed.
.
Sometimes in small ways (I lost 2 hours of focused work time).
.
And sometimes in BIG ways (you're out of pocket for days, weeks, even months because a kid gets sick, a death in your family, serious self-doubt takes hold of you, or any number of big things you could never have predicted!).
.
And this is just how life is…it's just how BUSINESS IS.
.
Yes, there is work to be done to mitigate the amount of times you get knocked off your course, but ultimately, what's important is OUR REACTIONS to the interruptions that matter.
.
What are your reactions when things don't go according to your BIG PLANS?
Do you fall into a spiral of anger or self-doubt?

Do you make it "mean" something deep and shift your energy into figuring out the psychological underpinnings of the event?

Do you immediately reach out for help and support?

Do you feel defeated and get off of your path for hours or days or even weeks?
.
No judgements here, girl…this happens to us all.  
.
I believe that the wiser we get about business, the quicker we snap back into our place of focused, purposeful actions.
.
We refuse to let "life happening" take us off our course for very long.
.
Because we have a message to share with the world!
Because we find JOY in the work we do and we want to get back to it!
Because we have a BIG VISION for what our business can do for us and those we serve and we're determined to manifest it!
.
There is one practical tool, above all else, that I have found helps speed up this process.
.
** ACCOUNTABILITY **
.
When there is an outside force that requires us to "check in" on a regular basis, it becomes almost impossible to get detailed for too long.  
.
Do you have accountability set up as part of your contingency plan?
.
Let's face it, we're entrepreneurs, which means that we don't have a boss.  Which is awesome, except that means that our "jobs" don't come with built-in accountability.  Which means that in order for us to get the big benefits that come from being held accountable, we need to proactively create accountability in our businesses.
.
Like the kind you find in a Mastermind.
.
A Mastermind is an interesting tool for we entrepreneurs because it leverages "social peer pressure" (the good kind = not wanting to lose face amongst our fellow business buddies, so we're going to make sure we do what we said we were going to do) to create a culture of positive accountability.
.
And more than any other resource, I've found that a Mastermind forces us to SHOW UP intentionally in our businesses.  So that we can make sure that our ACTIONS are lining up with our VISIONS.
.
Which is why I'm dedicated to offering Masterminds to you and your fellow Biz Women Rock community members.  
.
Because you have some BIG PLANS you want to implement.  You have a BIG VISION you see for your life and your business.  And I am committed to making sure you have every resource possible to MAKE IT HAPPEN for you!
.
The 2018 Biz Women Rock Masterminds begin in 2 weeks and this FRIDAY, JANUARY 19th is the LAST DAY you can apply.  
.
If you're up to BIG THINGS in 2018, I strongly encourage you to apply so you can take full advantage of the ACCOUNTABILITY that they offer and so you can make sure you remain on your purposeful path in the months to come!
.
You can apply to be a part of the Biz Women Rock Masterminds HERE!
.
We all get knocked off our course and as women entrepreneurs, it's up to us to create the supportive and structured environment that will help us keep true to our missions!
.
Here's to your BIG PLANS in 2018!!
.
Love,
Katie
.
PS: What happens when you apply to the Biz Women Rock Masterminds? You and I are going to chat live and on the phone. Because I want to know about YOUR BIZ and what you most need right now. I'm going to share the specifics about how the Mastermind works and MAKE SURE IT'S THE BEST FIT FOR YOU!  So apply today!
.
READY TO LEVERAGE A MASTERMIND TO UPLEVEL YOUR BUSINESS IN 2018?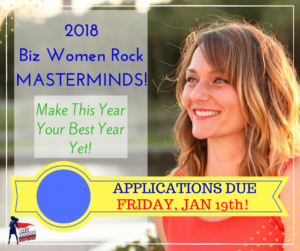 Strategic growth CAN create exponential results…IF you have the right structure and take the right actions!
And that's what you'll get in the 2018 Biz Women Rock Mastermind!
Because when you CHOOSE to put the right FOCUS, ATTENTION and ACTIONS into your business, you create massive impact for your revenues, your clients and your life!