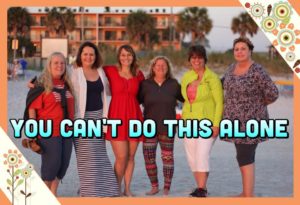 You Can't Do This Alone
Business, just like life, is not a solo sport.
It requires you talk to people. It requires you brainstorm with others. It requires you share the intimate parts of your business ideas with other people, leaving yourself open to ideas, critiques and suggestions.
It requires you give your business knowledge to others as well. That you contribute your support and ideas to others.
Because when you don't, you put yourself in a vacuum that will ultimately be your undoing.
So here are a few practical things you can do to integrate yourself into the entrepreneur conversations…
1. Join a live community, networking group, association, etc.
Even if your business isn't local, the act of showing up to see your fellow members of a local group is amazing! This gives you a great opportunity to hug people, exchange ideas and thoughts and come together regularly.
2. Join an online community.
Online communities are awesome because their benefits are available to you 24/7! A group like our very own Biz Women Rock group convenes in our private Facebook Group and it's a great forum where members can ask questions, get advice, say hello and share insights. It's a great way to feel connected from your laptop! (pssst…if you're not yet a member of our FREE Facebook Group, go join now!).
3. Invest in a coach.
This is the most customized way to getting the support you and your business need. So many of my clients come to me originally because they want to accomplish something big in their business that they don't quite know how to do alone. What ends up happening is a beautiful experience of customized strategies to help them get to where they want to go, brainstorming so they can see things they never would have seen on their own, emotional support – for those inevitable times when we doubt ourselves, and motivation…because we all need regular shots of "you can do it!" during our business journeys!
4. Invest in a Mastermind.
Masterminds are awesome because it's a structured, regular meeting with a trained facilitator and a handful of your peers. While the success of a mastermind depends heavily on the right facilitator, the right structure and the right participants, once you have those elements in place, the experience is tremendous! It's a great way to give and receive business ideas and solutions!
5. Get an Accountability Partner.
A successful accountability partner relationship definitely has some structure – an agreement on what you both are going to do in order to be accountable to each other. When this has been established and is followed, an accountability partner relationship is awesome because it helps you  so you can get the most important things done!
Your job as a successful and passionate business owner is to "buffer" yourself with as much support as possible so you can have the success you dream about! So if you currently don't participate in any of these, give yourself the challenge to choose one of them today and take action! If you already do, kudos to you! Maybe you can give yourself the challenge of choosing one more type of support so you can get more accomplished, be more productive and live into the business of your dreams a lot sooner than you thought possible!
That's the power of people in business!
How do YOU get support from others in your business? Hit REPLY and let me know! I always love hearing from you!