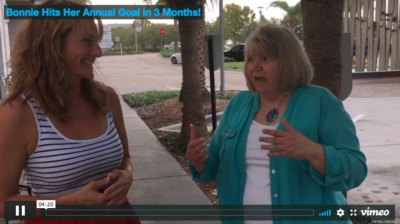 She Hit Her Annual Goal in Just 3 Months After the Retreat!
How would you like to declare a BIG GOAL for yourself for the coming year… and have ACHIEVED it by March?  
That's exactly what happened to Bonnie Dye.
Bonnie was one of last year's Biz Women Rock Retreat attendees and is a super active member of the Biz Women Rock community!
At last year's Retreat, Bonnie came up with a big goal.  A goal regarding her recurring revenue – that illusive, sexy stream of revenue we all work hard to create in our businesses!
And she HIT IT.  
Not by the end of the year…but THREE MONTHS AFTER THE RETREAT!
Check out the quick video below of Bonnie sharing about how the Retreat impacted her business BIG TIME and why she's coming back again for the 2017 Biz Women Rock Retreat!
The dream business (and dream life) you are working to build doesn't just happen.  It takes you taking control of the business you want to create for yourself!  And that's exactly what the Biz Women Rock Retreat is all about!  If you're ready to create serious results in your business in the year ahead, then join us at the 2017 Biz Women Rock Retreat!!