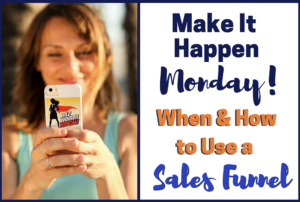 When & How To Use a Sales Funnel – Facebook LIVE w/ Katie
MAKE IT HAPPEN MONDAY SERIES: When & How to Use a Sales Funnel
On today's podcast, I had the pleasure of bringing on the incredible Dana Malstaff, creator of the Boss-Moms Movement. She walked us through the entire Anatomy of a Sales Funnel which made it incredibly simple to understand!
But if you've never successfully engineered a sales funnel for yourself but KNOW you need to, today's topic on the MAKE IT HAPPEN MONDAY FACEBOOK LIVE SERIES is for you!
I'm talking about When & How to Use a Sales Funnel. If you sell ANYTHING – whether it's an online or in-person service or product – you can leverage the power of sales funnels for your business! And today, I'm going to show you a few examples of how and when to use them!
This is the perfect compliment to Dana's brilliant breakdown on the podcast, so jump on in and let me know you're here!
PS: If you're looking for intense business strategies that can seriously uplevel the results you're seeing in your business, then private coaching and strategizing may be exactly what you're looking for! Just message me or comment below and we'll set up 15 mins to chat about how I can best help you seriously grow your business!